Work/Place
New environments, practices, rituals, tools, platforms, protocols and organizational forms could refactor our work futures. A report and audio series, this project was commissioned by Lane – a workplace experience platform acquired soon after this project. It explores the ways in which where and how we work reshapes the kind of work we do.
The microsite is available here, or you can scroll down for our documentation and reflections.
REMIT:
mutually informing techno-organizational work possibilities
FILE UNDER:
unhinged theory, speculative practice, adversarial audio, infotainment
COMMISSIONED BY:
Lane co-founders C. Robinson and K. Gyekye
PROJECT TEAM:
R. Bolton, M. Siu, V. Silins, U. Vira, J. Glenn
COLLABORATORS:
design by Strike Design Studio (E. Woudenberg), audio host S. Allen-Ash
AUDIO PARICIPANTS:
R. Mistry, S. Stewart, E. Burtynsky, R. Harfoush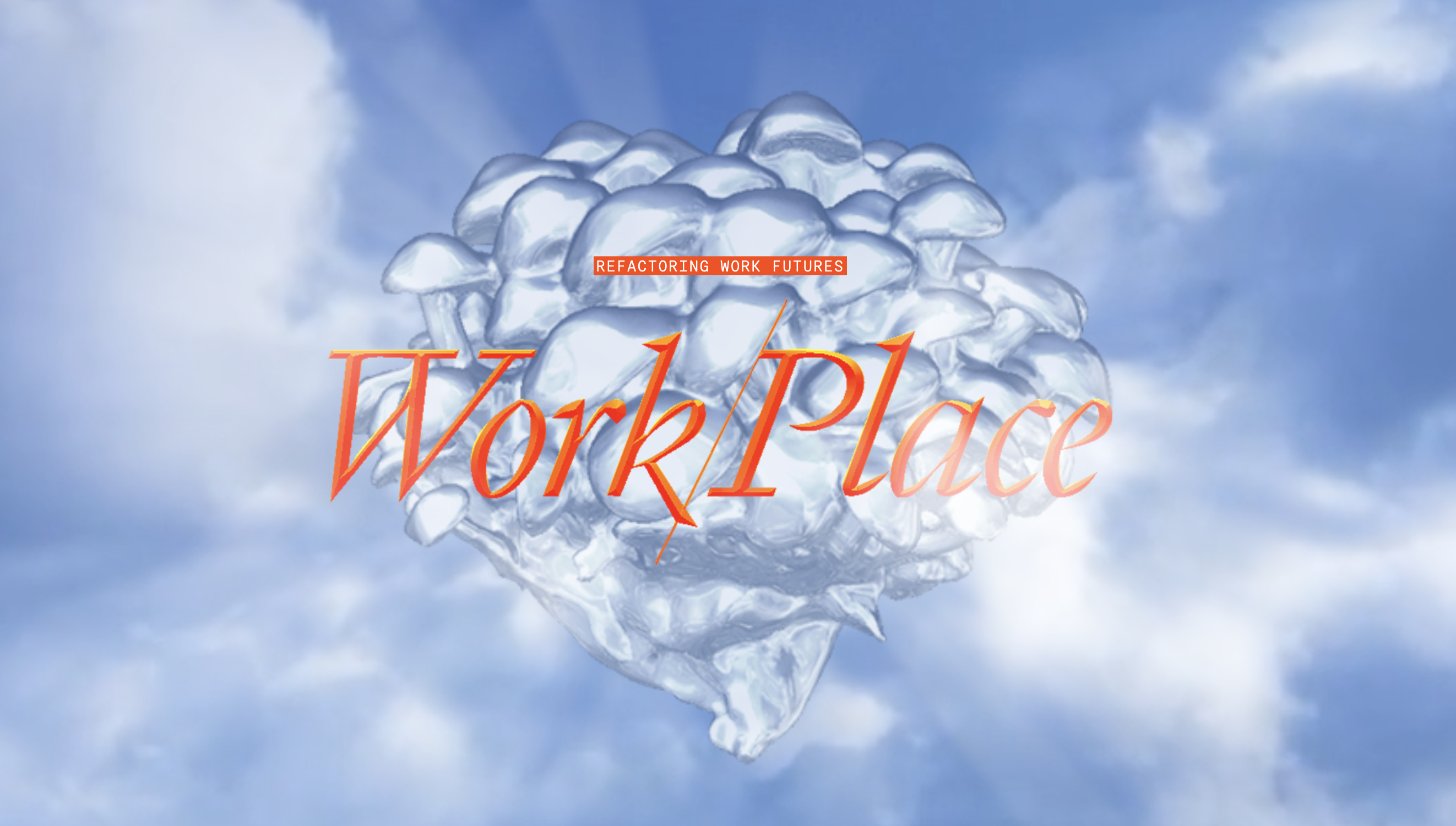 Report
We produced a 64-page report describing ongoing shifts in the landscape of work. It outlined possible implications for organizations, and provided speculative prompts to help navigate the changing affordances and tensions. The report cites a wide variety of ideas and figures: from Geoffrey West, Nadia Eghbal, and Benjamin Bratton to Melissa Gregg, Judy Wajcman, and Tor Hernes.
Equally inspired by processual theories of organization, speculation on planetary-scale technologies, and extensions of the idea of affordance from ecological psychology to organizations, the report was tied to the uncertainty faced by .doc workers during the accidental remote work experiment of COVID 2020.
The report is divided into a series of experimental themes that hopefully stick out from the relentless and self-fulfilling cottage industry of "future of work" reports, panels, and initiatives. If it continues, we estimate 40-60% of work by 2040 will involve producing material on the future of work. Themes were organized around the idea that technology could enable organizational forms to do new things, i.e. to afford new kinds of collective actions, and vice-versa – that how we work together will shape the technologies we develop to do work.
A PDF is available here, and themes are listed below: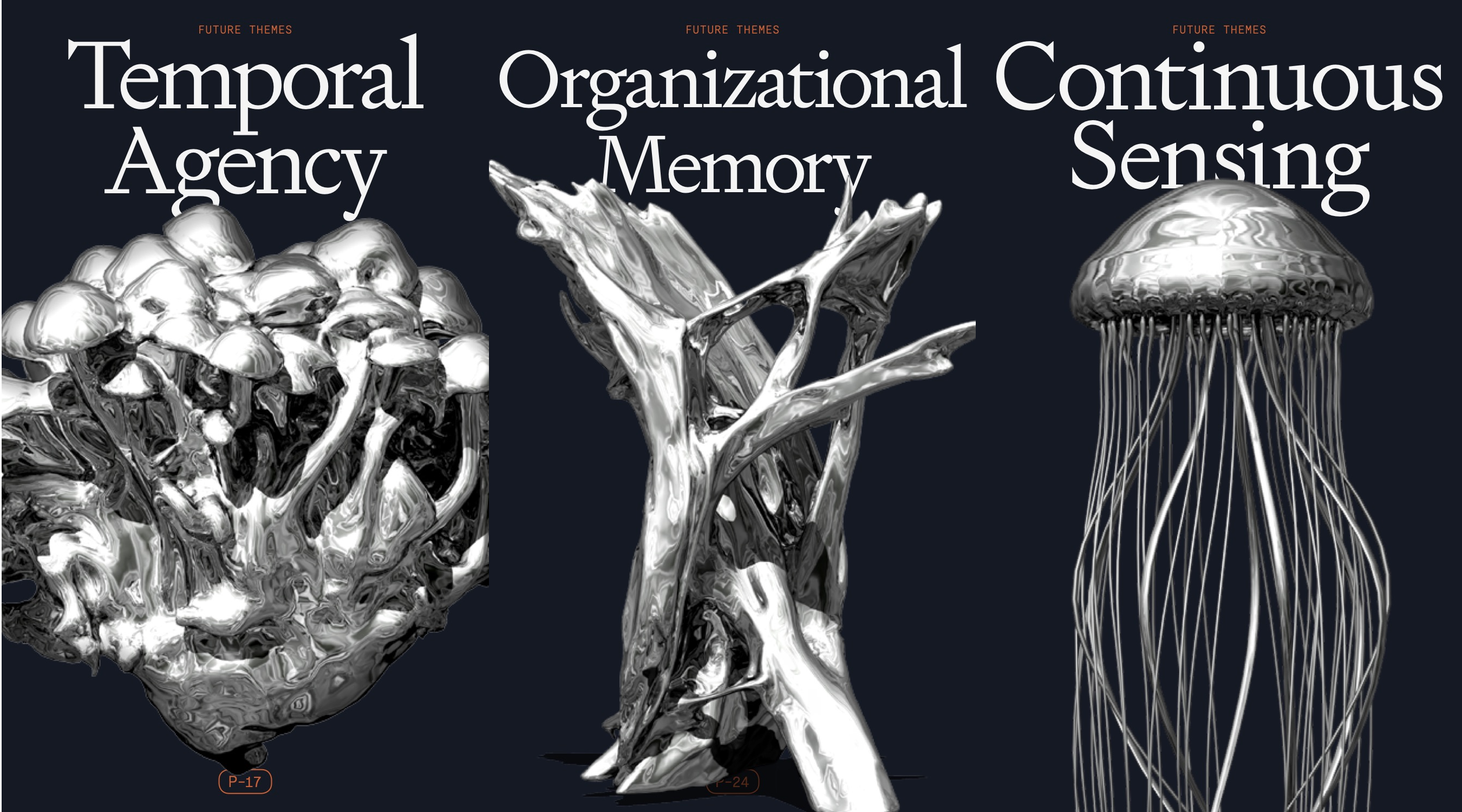 Temporal Agency
New ways of plotting time and timing
Tackles the changing organizational rhythms as software changes what it means to coordinate across new scales, cycles, and tempos.
Organizational Memory
Linking shared pasts to emerging futures
Notes the importance of embodied cognition in the design of work processes, re-minding us that environment and mind continually loop between each other, even in the digital world.
Continuous Sensing
Creating the conditions for self-organizing systems
Describes the challenges and opportunities involved in creating environments that sense themselves, and what it would mean to socially co-design them.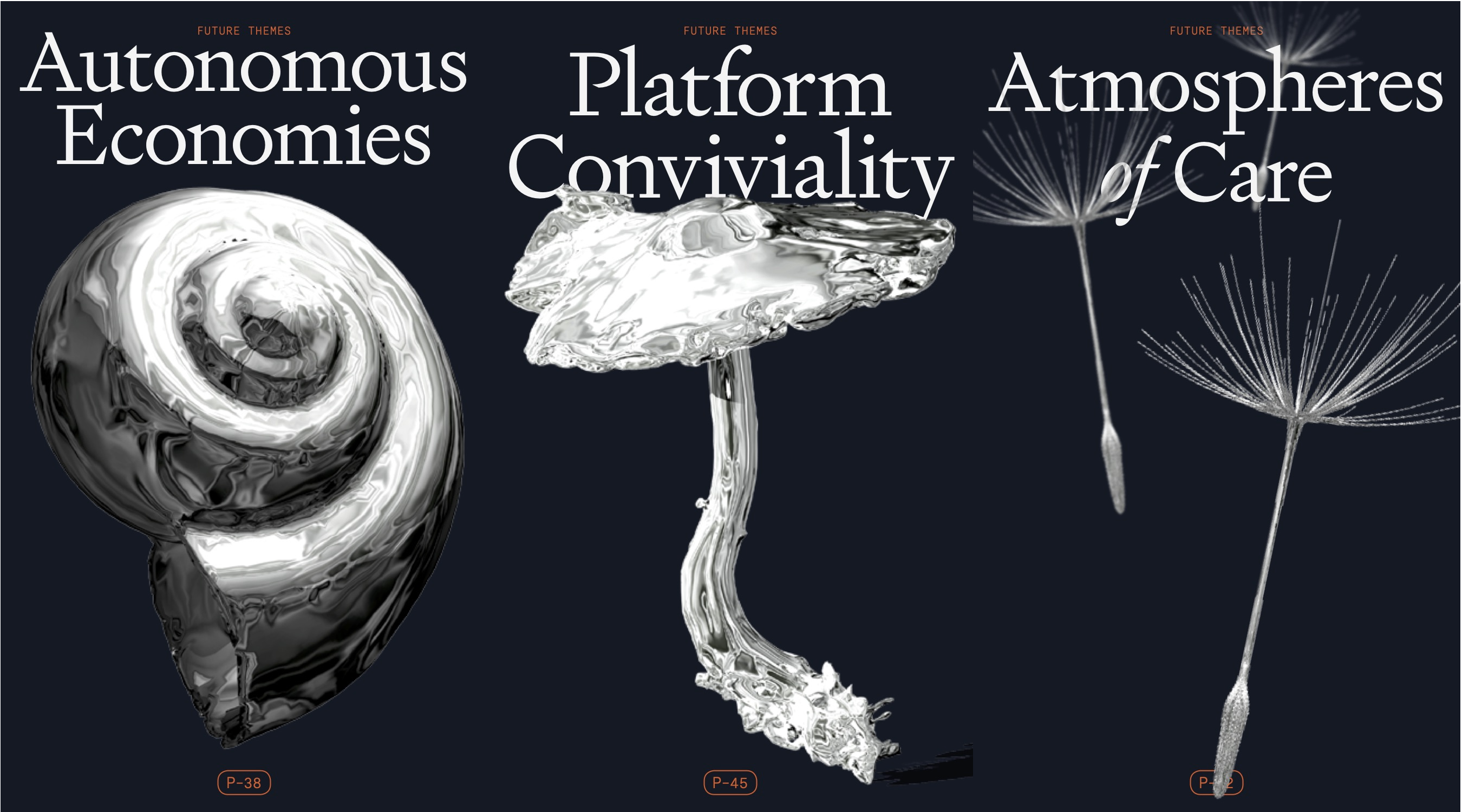 Autonomous Economies
Increasing collective capacity
Challenges us to think about what kinds of tasks should be automated, and what forms of collective autonomy that might enable.
Platform Conviviality
Infrastructure and tools for scaling mutualism
Suggests that new cooperative forms might emerge from the combination of communications technologies, governance processes, and alternative financial mechanisms.
Atmospheres of Care
Collective efforts to solve problems
Muses on the wider aims and functions of work, including the often slippery but useful term purpose, on living in a burnout society, and on why an organization might purposely set itself conflicting targets.
Audio Series
An accompanying podcast series brought the future of work to life, imagining what practices, rituals, tools, platforms, organizational forms, and environments might feel like. Each episode immersed listeners in a short speculative scene from the future of work inspired by the report, followed by a critical discussion exploring alternative visions of how things might unfold. Hosted by Sydney Allen-Ash, the first season featured guests Radha Mistry, Shaun Stewart, Edward Burtynsky, and Rahaf Harfoush.
Listen here or on Apple Podcasts and Spotify.

Is there such a thing as work-life balance? And to what extent can work and life be integrated into a dignified and meaningful existence? Radha Mistry joined for a conversation about a future workplace called "The Substrate" – a membership network of interdependent support spaces.
How do organizations remember, think, decide, and act? How can we design and plot time to rearrange organizational rhythms and enable new ways of coordinating across scales, cycles, and tempos? Shaun Stewart joined to listen in on a new employee's first day using Quartz – an all-sensing company clock that time-tunes tasks according to employees' wellbeing.
How will the workforce shift towards climate adaptation? Is the future of work all about climate resilience and/or carbon mitigation projects? Edward Burtynsky joined for a conversation on possibilities for future roles in light of global climate crises, environmental degradation, and resource depletion.
What happens to the ways we work when we have digital-physical hybrid spaces, hybrid-companies governed by automation, and hybrid people – virtual characters, interacting as though they're real? Rahaf Harfoush joined for a conversation on mixed-realities in the workplace as we listen to a futures true crime podcast questioning who's at fault when an automated organizational system goes rogue.
Reflections
While notions of care work, repair, and political-economic tensions surface throughout, a blindspot of the project from day one was that it focused on the experience of the middle-upper denizens of the not-so-new economy of North America. Those who work in towers and coffee shops, during the day, almost permanently plugged into their portable work terminals (laptops and phones).
The material in the report and audio scenarios doesn't sugercoat anything; it doesn't hype a frictionless world of meaning and fulfillment or rail against a dystopian one of surveillance and stress; it asks us to confront the function and unintended consequences of ongoing changes in technology and organization. But it is still far from the future of everyone's work.